Beräich(er): Aarbecht am sozialen oder edukative Beräich, Kultur
Programm: Service volontaire européen
Missioun:
Adress / Land:
Pomiechówek
45 km from Warsaw
Dauer: 6 - 12 Méint
Ufank: September 2021
Schluss: August 2022
Typ vun der Missioun: Individuell
Beschreiwung vun der Missioun:
Public Library of Pomiechówek Commune lends books and organizes cultural and educational activities related to reading. Its target group includes inhabitants and visitors of the commune who are at different ages.
Pomiechówek Commune has around 9000 inhabitants whereas Pomiechówek village itself around 3000. The village is located 45 km from Warsaw and has residential character, in summer it turns into a popular destination for local tourists.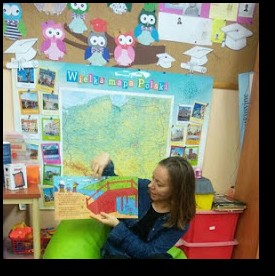 Aufgaben vum Volontaire:
Volunteer will be involved in everyday work of the library and will be encouraged to realize own initiatives. Following activities are possible:
Librarian's work such as arranging books, writing reviews, online promotion
Organizing meetings and events for the local community
Help in organizing programming lessons for children, IT courses for seniors, language meetings online, etc.
Help in organizing meetings about literature, meetings with writers
Visits in kindergartens and schools to promote reading and intercultural education
Organizing own presentations and meetings such as language meetings, traveler's meetings, creative workshops
Promoting Volunteering and European Solidarity Corps
Gesichte Profil:
Interested in literature or art, history, etc.
Creative, independent and ready to have own ideas and initiative
Friendly, making relationship with people easily
Willing to work with people of different ages (from small children to seniors)
Communicative English
Reliable and diligent