Beräich(er): Aarbecht am sozialen oder edukative Beräich, Ëmweltschutz, Kultur
Programm: Service volontaire européen
Organisation d'accueil:
Szatyor Közösség a Környezettudatos Életmód Támogatásáért Egyesület

Missioun:
Adress / Land:
Kék tó Camp in Lengyeltóti, Hungary
Dauer: < 2 Méint
Ufank: August 2023
Schluss: August 2023
Typ vun der Missioun: Am Grupp
Beschreiwung vun der Missioun:
PLEASE be aware, that
- our community lives under quite simple, "nomadic" circumstances, in the nature, so there is mud when it rains, and hot, when the summer sun is shining, so the heat may challenge your endurance, involving lots of sweating;
- the work with mud, soil and stone is physically demanding;
- you have to have sturdy boots that are suitable for this work.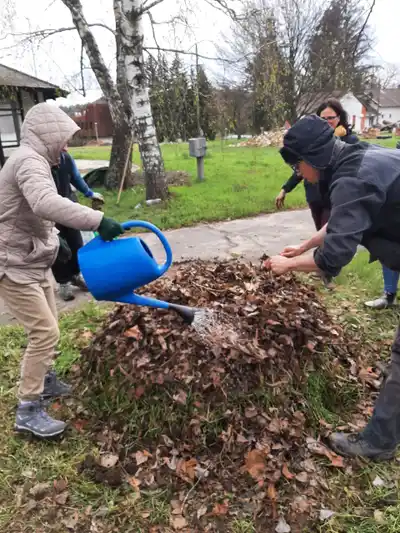 Aufgaben vum Volontaire:
Eco-architecture:
CONSTRUCTION OF WATTLE AND DAUB WALLS IN PRACTICE – Materials: braid, adobe
Technique chosen: wattle or daub wall is the oldest lightweight wall building technique of Hungarian folk architecture. In Hungary most places you can build it with natural materials within a 30 km radius. This time we will build
the masonry of a one-storey chicken coop, on top of which one of the raised terraces of our community space will be located, providing a view of our mandala garden and geodome.
We built the south wall of our Summer kitchen with the same technique.
Regenerative land management: We are working on 80 hectares of land, which we intend to nourish and regenerate. We have spent the last 1.5 years preparing, surveying, planning and planting 60,000 trees. In spring 2023, we decided to step out into the light and invite you to come and learn and practice on our permaculture model site, built in the spirit of regenerative development. Our explicit aim is to provide a training ground for professionals who wish to (re)train themselves in a regenerative direction that truly responds to the pressing challenges of our time.
Organic gardening: We are building a Mediterranean garden, and we will learn about different gardening techniques and methods, all related to permaculture principles.
Building a playground: We believe that art should surround us in a humble way without wasting resources, and with deep respect for Mother Earth. We will experiment with ways to create art together with nature for our future generations.
Cooking: Taking part in the kitchen tasks, cooking, baking the bread ourselves and preparing the lunch and dinner.
Gesichte Profil:
In contrast to the general knowledge courses "Introduction to Permaculture" and PDC, we will now dig deeper into the waters of practical implementation.
If you're building self-sufficiency and independence, the first thing you'll want to learn and practice.
If you would like to learn about the most commonly used natural material in the last millennia, adobe, and the low tech solutions that build on it, this is the perfect time.