Domaine : Aarbecht am sozialen oder edukative Beräich
Programme : Service volontaire européen
Organisation d'accueil
IN VIA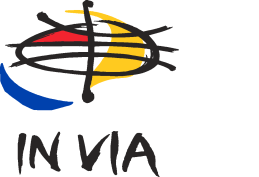 Mission
Adresse / pays
Aschaffenburg
Germany
durée 6 - 12 Méint
début: september 2021
fin: août 2022
type de mission: individuell
Description de la mission :
IN VIA is a strong organization – dedicated and experienced, catholic and innovative, local and worldwide. We speak up for young people and for women. We are active in over 70 states in Germany with concrete actions, learning opportunities, projects as well as political representation of interests.
What does IN VIA do?
Social work in schools
Assistance by the choice of occupation
Offers for migrants
Residential accommodations for young people
Qualification
Get-togehther for girls
Au-Pair
Volunteering
"Bahnhofsmission"
You like working with children and adolescents? You are sensitive to their needs, understanding, patient, creative and open to learn? Then the municipal children's home of Aschaffenburg is looking for you! There are living around 50 children and adolescents who can't live temporarily or permanently with their families. They are placed in 6 different groups, living together with their social workers and pedagogues. The children's home is located close to the centre of Aschaffenburg.
Tâches du volontaire :
You would help and support the team with the organization and assistance of the daily routine of the children and adolescents. You help plan and participate in all kinds of leisure activities. Also, you get creative with your own project.
Profil recherché :
you have an ESC sending organization and are registered in PASS
you are experienced in working with children and adolescents
you are mature and responsible
you have some basic knowledge of the German language
you are curious about Germany and its culture
you bring in your own ideas into the project