Domaine : Aarbecht am sozialen oder edukative Beräich
Programme : Service volontaire européen
Organisation d'accueil
La Maison de l'Europe Le Mans-Sarthe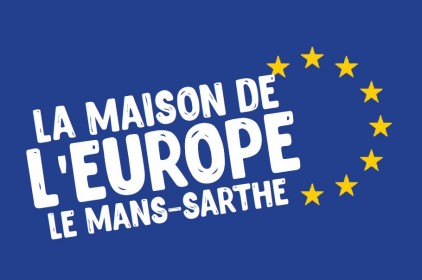 Mission
Adresse / pays
Le-Mans (one hour far from Paris)
France
durée 6 - 12 Méint
début: september 2021
fin: juillet 2022
type de mission: am grupp
Description de la mission :
We would like to raise awareness of European citizenship and openness by recruiting a European Solidarity Corps volunteer. This means more diversity, more exchanges of opinions, getting to know each other and accepting cultural differences. It will arouse students' curiosity and might encourage them to step out of their comfort zone and get new experience, abroad.At the Lycée Joseph Roussel, we manage many projects: all the sections of the school develop recreational activities, invite speakers for conferences, visit companies, collaborate with associations and local communities, take part in some events and work with diverse partners.More information (in French) about the technical college: http://www.lyceeroussel72.com
Tâches du volontaire :
The volunteer will be involved in the various activities of the college:
Your role is to promote Europe and your country among students (through socio-educational activities, language workshops and refresher courses, a Club Europe) and help the college in forging links with other schools and thus, create new working or mobility partnerships.
You will manage the Europe corner, in collaboration with the librarian, and work on communication actions (website of the college, blog, Facebook page, the press).
You will be invited to develop Europe-related games and recreational activities over lunchtime.
You will especially work on mobility programs: encourage students to take part in a European experience and promote mobility in Europe through the Language Club and the European section, support students in writing their application form (CV, cover letter), brief them before departure, follow-up, develop the optional Euromobipro mobility section. You will intervene during Individualized Support sessions to help students and take part in collaborative projects, Etwinning for instance.
You will come along with students to any exterior visit (+ travels and stays in France and abroad, professional mobility abroad).
You will take part in any key event of the school: Welcome Days in September, Olympiads (September), Christmas, Careers Fair (February), Carnival, Open Day (March), Day of Talents (April), Europe Day, etc. Any other suggestion will be appreciated for the European Day of Languages or Erasmus Days.
Profil recherché :
HOW TO APPLY? These ESC offers are coordinated by the Maison de l'Europe in Le Mans. You will mainly be in touch with us during the application process, and at the beginning of your ESC to settle there. All administrative and financial aspects of the projects are managed by the Maison de l'Europe. More information about us: http://europe-en-sarthe.eu/a-propos/about-us/
If you already have some knowledge of French, please don't be afraid to apply in French! No matter if there is mistake, you are here to learn! And don't forget that English is not well spoken (or not spoken at all) in French rural areas!