Domaine : Travail social et éducatif
Programme : Service volontaire européen
Organisation d'accueil :
Actio Catholica Patria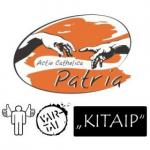 Mission :
Adresse / pays :
Kaunas
Lithuania
durée : 6 - 12 mois
début : à convenir
fin : à convenir
type de mission : Individuelle
Description de la mission :
In our Center we try to empower former convicts through social activities, pastoral care, targeted education and environmental factors. Our Center is being visited by former inmates who do not have permanent place of residence, and all other persons in difficulty who are currently going through particular crisis situations. The aim is to empower these persons to again feel capable and dignified people, who can create, work and share.
The project #iMap invites you to explore solidarity through volunteer-driven cooperation among local host organisation and the relation of humans to their physical environment and its importance in today's world. Join this project and you will be able to promote solidarity and active citizenship by volunteering in a specific hosting organization, participating in and organizing solidarity events, etc.

Tâches du volontaire :
Organize various activities in the daycare center for its visitors: board games, movie screenings, discussions, language exchange, handicrafts or anything else depending on the abilities and interest of the volunteer and in cooperation with the employees and the local volunteers;
Organize for and attend trips with the visitors of the daycare center;
From time to time help in the homeless shelter.
Check out the volunteers' blog: https://timetoevs.blogspot.com/
Profil recherché :
Apply for this project if :
you are willing to go into direct contact with the visitors of the daycare center
you are willing to cooperate with the local volunteers in the center
you like to organize things
you are willing to search for ways to engage people in activities and to empower them.