Domaine : Coopération au développement, Culture, Travail social et éducatif
Programme : Service volontaire européen
Organisation d'accueil :
Kapnikos Statmos Katerinis

Mission :
Adresse / pays :
Katerini, Greece
durée : < 2 mois
début : novembre 2023
fin : décembre 2023
type de mission : En groupe
Description de la mission :
Every December, right in the heart of subtropical Katerini, we set up a large-scaled yet fully sustainable Christmas Village with a twist: absolutely no money needed. As entry to the premise and for free access to all the offerings, an adult may contribute some 2 kg of groceries (pasta, rice, canned food) whereas children leave a book. Following the principle of circular economy, at the end the collected books are donated to the libraries of the regional nursery schools, while the foodstuff stocks up the warehouse of our "Social Goods Distribution", supporting people in dire need. At the same time, a uniquely inclusive social space is created, where people with financial or cultural hurdles have easy access to. The participants of the Volunteering Team will be involved in every aspect of preparation and execution of the event (spreading hay, tending to the fire, caring for the visitors, social media campaigns) as well as showcasing their own traditions in a creative and inclusive way.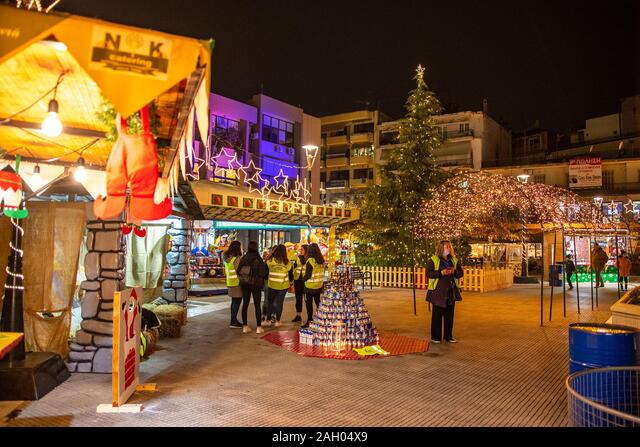 Tâches du volontaire :
– Active participation in the preparation of the Solidarity Christmas Village and tasks during the event (spreading hay, taking care of the fire, giving out foodstuff, activities with children, reception and sorting of donations, etc.)
– Active participation in tasks for promotion, communication and documentation
– Planning, preparation and execution of creative activities presenting participants´ own cultural traditions
Profil recherché :
We are looking for volunteers interested in multicultural exchange and openess to meet, interact and cooperate with a wide variety of people. No special competence is required, yet every unique skill is appreciated. Loving Christmas or winter is optional, respecting each others freedom, boundries and opinions is obligatory.