Domaines : Culture, Travail social et éducatif
Programme : Service volontaire européen
Organisation d'accueil
Outward Bound Croatia

Mission
Adresse / pays
Outward Bound
Educational Center in
Veliki Žitnik in Lika region.

durée < 2 mois
début: août 2020
fin: août 2020
type de mission: individuelle
Description de la mission :
Outward Bound Croatia is a member of a world-renowned schools of Outward Bound International network, providing outdoor experiential learning programs. The main field of activity is organization and implementation of innovative outdoor programs for school children and youth, with special concern to youth with fewer opportunities. Programs include courses in nature, teaching various technical skills and sports, learning how to overcome physical and mental challenges and result in building self-esteem and discovering one's full capacities, which can later be transferred to everyday life.
Special attention is also given to social and environmental responsibility and the impact of one's actions on the group and society as a whole.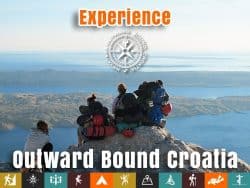 Tâches du volontaire :
Environmental action- Cleaning the nature around the village this will include forest and river areas.
Waste management- Making bio-compost in the educational centre
Art and awareness- Making art work from the collected trash, preparing exhibition and setting up the recycle art exhibition in the nearby town to help raise awareness within local community on the effects of pollution on the environment in the region and the importance of proper waste management.
Furniture workshop- Creating and making different wood products (closets, wooden benches and seats for the fire place) necessary for the yearly programs for youth at educational centre.
Nature and Nurture- Spending time in the garden, planting berries and connecting with nature.
Follow-ups- "Leave your trace" – Use the skills and knowledge gained through the volunteering project to plan and executeyour follow up projects within your community in your respective country.
Profil recherché :
Youth aged between 18-30
Motivated to actively participate in all the activities during the whole project duration
Interested to learn and develop their skills
Ppen towards new experiences
Open towards working in a group and living together
No qualifications or previous experience is required
Candidates with social, economic and geographical obstacles will be given advantage.