Beräich(er): Aarbecht am sozialen oder edukative Beräich, Kultur
Programm: Service volontaire européen
Organisation d'accueil:
Kapnikos Statmos Katerinis

Missioun:
Adress / Land:
Fleming 8, 60134 Katerini, Greece
Dauer: 6 - 12 Méint
Ufank: à convenir
Schluss: à convenir
Typ vun der Missioun: Individuell
Beschreiwung vun der Missioun:
"Ο τόπος μου", "My Place" is the name of our group of active citizens of the provincial town of Katerini in northern Greece translated. We started as an initiative of concerned people who did not want to remain idle in 2007 when it came to protecting the forests of neighbouring Mount Olympus. We have kept this character of citizen mobilizing action alliance all these years, while the projects have become more and more and bigger. The philosophy, on the other hand, has not changed: We are a citizens' movement open to all and independent of any state agency, with the aim of educating, raising awareness and mobilizing civil society. Volunteering, nature conservation, solidarity and human rights are the values by which we act.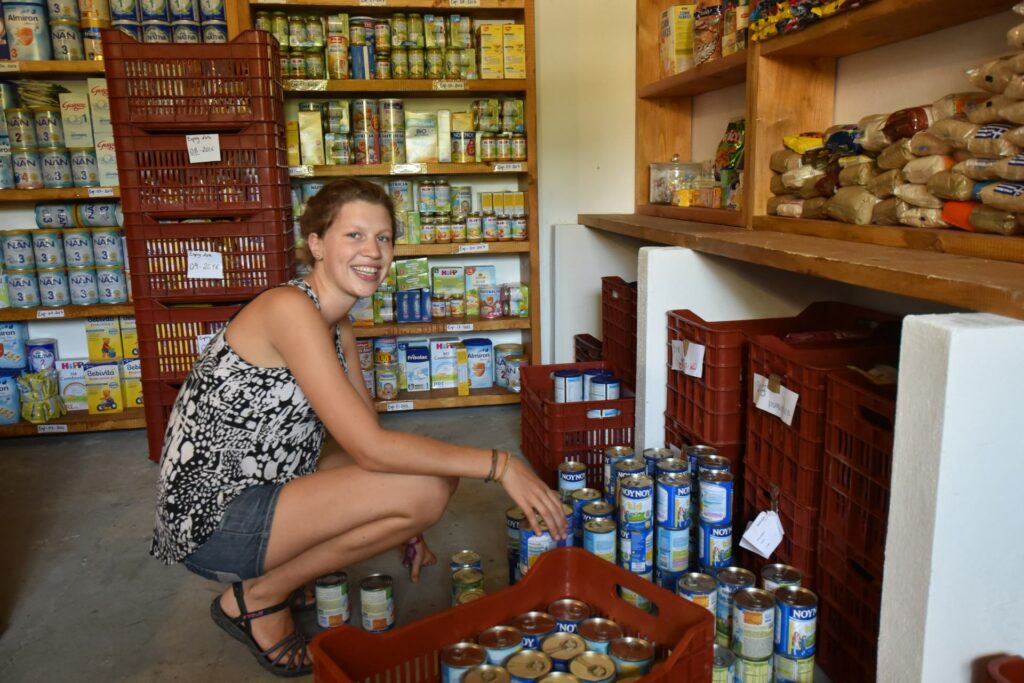 Aufgaben vum Volontaire:
The Social Goods Distribution is a volunteering project supplying people in need with essential goods.
It parallelly operates in three different modes:
First, as logistics centre for emergency humanitarian aid the Social Goods Distribution organizes and manages essential aid for people affected by an acute crisis (e.g., earthquake, forest fires, floods). Second, as a social provider it supplies people, who verifiably cannot equip themselves (ca. 40 currently), with a monthly package (30 kg) containing all necessary goods for their elementary needs (e.g., food, hygiene products). Third, as a social supermarket it gives registered beneficiaries (ca. 18 currently) the option to buy goods from our stock using our own virtual currency they earn by helping with the daily chores of the organization (maintenance, gardening and small repairs).
The warehouse of the Social Goods Distribution is filled by donations from the local community, small business and donations from abroad, collected mostly through projects, events and public calls for donations in kind.
The permanent stock includes long-lasting foods (such as flour, sugar, legumes, barley, rice, tins, olive oil, children's milk powder, etc.) as well as daily hygiene products (tooth paste, soap, shampoo, toilet paper, wet wipes, sanitary towels, etc.).
Tasks and activities of the volunteer:
– Reception and selection of food and hygiene products
– Inspection of expiry date and general condition
– Categorization and sorting of received products
– Preparation of specialized monthly packages for beneficiaries
– Participation and supervision of distribution of goods and packages
– Maintenance of beneficiaries' analogue and digital register
– Documentation of progress (photo, video, newsletter)
– Cleaning and maintenance of the storage rooms
– Cleaning and disinfection of the transport boxes
– Active participation in preparation and execution of campaigns (for example social media)
– Active participation in preparation and execution of special events and callings
Gesichte Profil:
We deeply wish to let this Volunteering Projects place open for young people with a strong motivation to be a volunteer.