Domaine : Travail social et éducatif
Programme : Service volontaire européen
Organisation d'accueil :
Actio Catholica Patria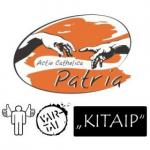 Mission :
durée : 6 - 12 mois
début : à convenir
fin : à convenir
type de mission : Individuelle
Description de la mission :
Many inhabitants of the Pravieniškės village belong to a socially weaker part of the Lithuanian society. Our children daycare center is part of the Kaišiadorys
Social Services Center and is contributing to the reduction of social exclusion and poverty in Lithuania. Our center has started to develop its activities 8 years ago.
At the moment we support 24 children from risk families; 13socially weak families; 12 seniors; 2 disabled persons.
The project "iMap"invites you to explore solidarity through volunteer-driven cooperation among local host organization and the relation of humans to their physical environment and its importance in today's world. Join this project and you will be able to promote solidarity and active citizenship by volunteering in a specific hosting organization, participating in and organizing solidarity events, etc.